Welcome to St John Vianney's Church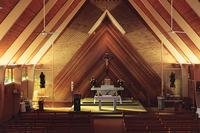 From 1933 Rivoli Hall on Glynburn Road was used for Sunday Masses, first on a rented basis and was later purchased, renovated and dedicated as the first permanent church of St John Vianney at Burnside. The present St John Vianney's was dedicated on July 25, 1962 as part of the former Dulwich and Burnside Parish.
St John Vianney's serves the most easterly part of the parish. As well as Sunday Mass there is weekday Liturgy of the Word, a choir and all activities and events of the Dulwich-Burnside community.
For inquiries please contact the parish office.