Read and keep up-to-date with:
COVID regulations and messages from Archbishop O'Regan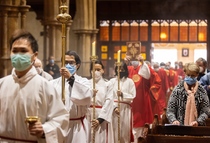 Latest COVID-19 Restrictions

As per the Archbishop's correspondence of June 17, a number of issues relating to COVID-19 have been clarified as follows:

No density limits for places of worship; churches can return to full capacity.
QR codes or sign-ins are no longer required.
Masks are highly recommended.
COVID marshals are no longer required except for events covered by a COVID management plan (i.e. more than 1000 people)

The following activities may resume:

Procession of gifts
Collections (please be mindful to minimise contact when passing)
Children's Liturgy of the Word

We take this opportunity to remind you of the importance of social distancing and good hygiene practices.

Click on this link to read more messages from Archbishop O'Regan.
---
COVID information for our churches
If you have tested positive for COVID-19 please follow the instructions as per SA Health in terms of contact tracing and isolating yourself as per government health protocols.
Please stay home and do not attend church services till you have fully recovered.
The density requirement has been updated to full capacity in all churches.
These density requirements (full capacity) also includes funerals and weddings.
Wearing of face masks is not mandatory in church but is strongly recommended by the Archbishop to do so. Please carry your own mask if you plan to wear one. This includes all religious except when delivering a sermon.
Sick and high risk/vulnerable people are requested to stay home and not attend services.
Hand sanitiser is available at church entrances. Kindly sanitise your hands before entering the church.
There should be no physical contact outside one's family or household group. There should be no shaking of hands or holding hands during Mass.
Precious Blood will not be distributed.
No hymn books are to be passed around and congregational singing with face masks on is now permitted.
Communion is given only in hands.
Holy Water is not available at the doors of churches.
Collection plates will not be passed around but a single drop point is provided at the churches.
Care should be taken at the dismissal and on leaving the church to avoid social contact.
All surfaces will be cleaned at least daily, with special attention given to frequently touched surfaces.
Kindly follow the instructions of the Mass coordinators and COVID Marshals who are here to assist you.