Read and keep up-to-date with:
COVID regulations and messages from Archbishop O'Regan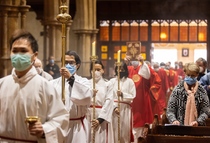 Following an announcement around the removal of both mask wearing and QR codes effective 12:01am April 15 2022 it is strongly recommended that people are encouraged to continue wearing masks.

We ask that you continue to maintain other hygiene practices:

1. Regular sanitization of hands
2. Continued omission of the Offertory Procession and Collections
3. Strictly no Communion on the tongue
4. Maintaining recommended social distancing e.g. within the Church and whilst going to Communion

Click on link below to read more messages from Archbishop O'Regan.
---