13 Sep 2015
Vocations week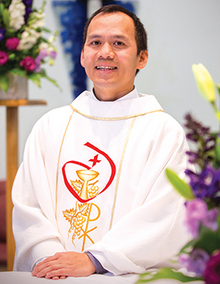 The Southern Cross, August 2015 - click here and then go to Vocations feature - pages 11-14.
Click here to read more priests stories who share their journey to priesthood.
Refugee's journey to the altar
Vietnamese refugee Tru Nguyen has turned around a displaced life, including imprisonment as a child for attempting to escape the country's Communist regime, to one at the altar following his ordination in Adelaide last month.
Father Tru, 35, became a priest of the Missionaries of the Sacred Heart (MSC) at Our Lady of the Sacred Heart Church on July 24 at the hand of his former principal Port Pirie Bishop Greg O'Kelly SJ.
The unique ceremony was attended by Fr Tru's family, some of whom travelled from as far as Vietnam, Africa and the United States to witness the historic family moment. More than 20 priests and seminarians from across Australia also gathered at the Henley Beach church for the ordination.
Twenty-four years ago, Fr Tru followed his mother Lac and older sister Thanh to Australia. He was 11 when his family settled in Pooraka, joining family who had arrived before them.
Their journey to Australia, like many Vietnamese fleeing at the time, was tough.
"My father died from cancer when I was two and my mother could not look after us alone so she took us to live with her parents in the city (Ho Chi Minh)," says Fr Tru. He was born in Rach Gia – a city on the coast of the Gulf of Thailand.
He says his mother made repeated attempts for them to leave Vietnam's Communist regime and follow her parents and siblings to Adelaide. Each time they were caught, they would spend days, sometimes weeks, in prison. He cannot recall those times but says he would have been a young child. "We tried many times to get out of Vietnam," he says.
Eventually, in 1988, when Fr Tru was eight, they made their way across the border to Cambodia by bus and a year later set sail with 90 other Vietnamese in a fishing boat for Malaysia.
They arrived in Malaysia in 1989 and spent three years in a refugee camp awaiting a visa to Australia.
Fr Tru became an active member of the Vietnamese Catholic Community in Pooraka and attended St Ignatius College from 1994 to 97. He graduated from Adelaide University in 2002 with a Mathematics and Computer Science Degree and first began to discern a religious life in 2003. He spoke to a chaplain and began reading the work of Jesuit missionaries in Vietnam. A missionary life began to appeal to him.
The same year he travelled to Sydney for work and was introduced to the MSC by Fr Tan Nguyen msc, also from Adelaide. He spent five years predominantly working as a carer for the disabled and completed further studies in social work at the Australian Catholic University.
By the end of 2007 Tru participated in a MSC retreat. "At that time my spiritual director guided me to listen attentively with my heart, and then draw all my strength to follow that desire," he says.
"I did that and I found what I wanted most was to be loved by God and loved by the people I love and be able to love others as I am loved."
He joined the MSC in 2008.
After his ordination, Fr Tru returned to Sydney where he will serve at Randwick Parish.
"Each of us has a vocation," he says.
"That is, we are all called to live life to the full. We are all called to live as God's beloved as Jesus lived. For me to live fully and to live as God's beloved is 'to be on earth the heart of God'."